If you wish to feature, narrate, or reproduce a story written by me, Patrick Zac (Reddit user @murder_1, Tumblr user @thesanitorium, Facebook user @PatrickZac, Twitter user @_murder_1_), permission must be granted first. For the surest response, you may ask for permission by reaching me here. You can also reach me on any of the aforementioned social media if you prefer that instead, but I can't guarantee a response as quick with those.
If I've sent you a link to this page, you can consider it a massive thank you and a green light to go on with the reproduction, as long as the following conditions are met:
The reproduction must be credited as "Written by Patrick Zac". There is no need to mention or reference Reddit's NoSleep, Thought Catalog, or any other platform my work has appeared on; "Written by Patrick Zac" is the only attribution necessary.
There must be a live hyperlink to my website, The Sanitorium (http://www.thesanitorium.com/).  †
If significant rearrangements, additions, or removals are made to the original work when you reproduce it, you must indicate that changes were made.
If you are making money by using my work, you must inform me before continuing, and wait for an updated proposal.
Any of the above may be waived by, and only by, the author. That's me. This can be done either verbally or in a written communication. I'm very easy to reach, and these rules are not stone-set. All you have to do is communicate; I'm open to reasonable compromise.
Anyone who does not comply with these simple, clear, and I think very fair conditions will be reported for a DMCA violation. I also have a copyright claimed, and I have no problem putting the money I spent on it to good use.

I have spent years trying to become a better writer. I have spent a great portion of that time writing these stories. It's not only unfair to me if you use my creations for your own benefit or claim it as your own, but also — more importantly — unfair and misleading to any readers who enjoy the end result.
Thanks for understanding, and I look forward to working with you!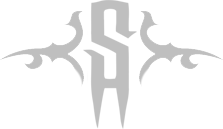 †  Important: As of now, my website is down. You may exclude condition 2 for the time-being. I would appreciate it if you link to my Tumblr page instead (https://thesanitorium.tumblr.com/), but it's not necessary. When everything is back to normal, I will remove this notice.